View articles published in: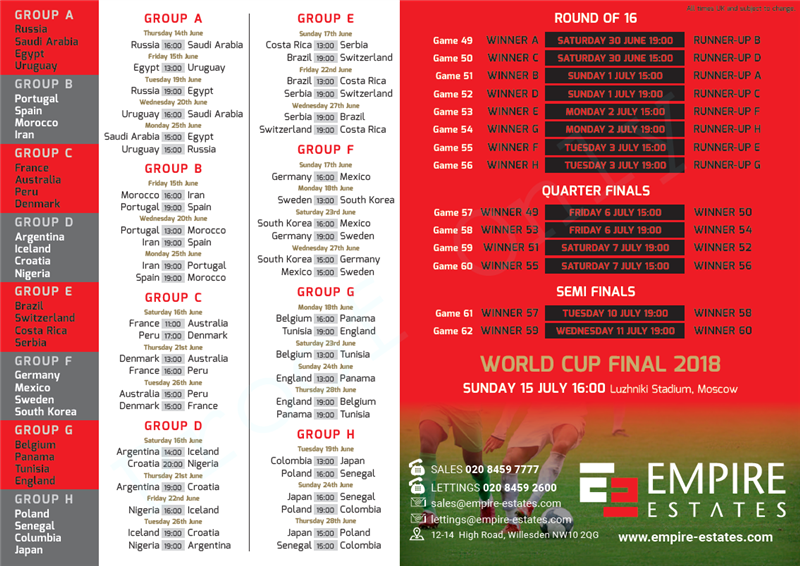 Published: 22/06/2018   Last Updated: 22/06/2018 16:45:30   Author: Empire Estates    Tags: World Cup, Football, Sport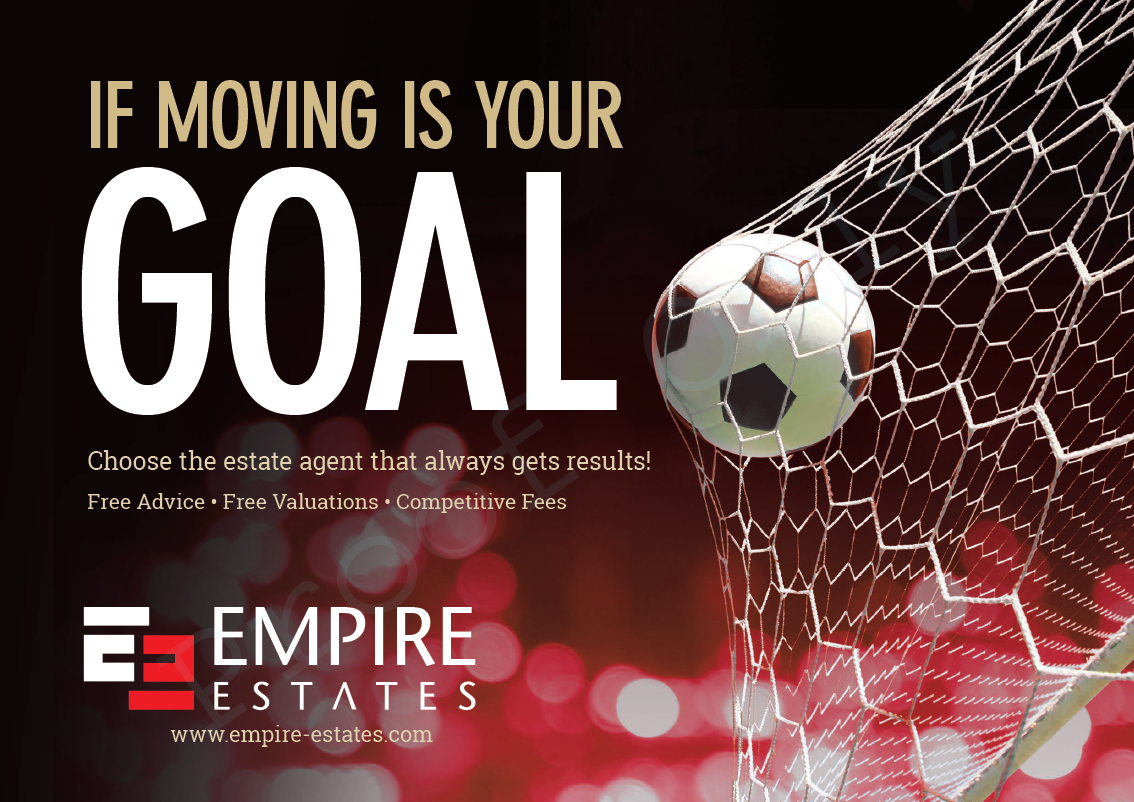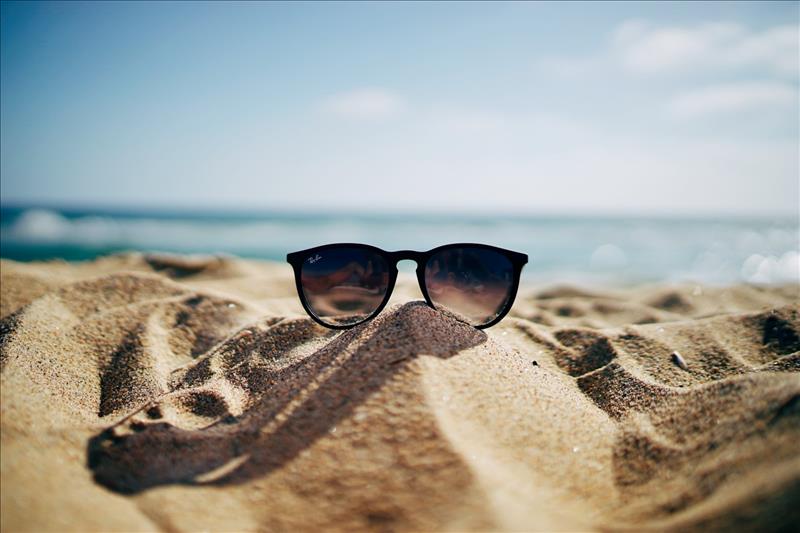 Published: 21/06/2018   Last Updated: 22/06/2018 16:44:13   Author: Empire Estates    Tags: Summer, Weather, Guide
The weather forecast has predicted that there is going to be a heatwave and that we are set to see temperatures in the region of 30°C from Monday onwards. With this in mind we have compiled this shortlist of tips and tricks to help you stay cool.

Fans
There are lots of fans on the market, from elegant floor-standing models to tiny desk-tops, but they tend to disappear quickly from DIY stores when the weather gets hot, so nab yours early. Check whether the fan oscillates – useful for keeping air moving – and how many speed settings it has. A lower speed is perfect for night-time - you don't want to wake up with a stiff neck.

Block out the sun
We all know we lose heat through our windows in winter, but we also gain it through our windows in summer, and particularly those that face the south and the west. Track the sun throughout the day, opening and closing curtains and blinds to prevent the sun coming in as it moves around the house. This can lower the temperature indoors dramatically.

Create a breeze
Once the sun has moved away, open windows and doors wide and let any breeze there is flow in. Create a cross breeze by placing a fan opposite the window.

Turn lights off
Incandescent lights give off a lot of heat, so turn off lights when not in use. Use the washing machine, dishwasher, hob and oven during the cooler parts of the day.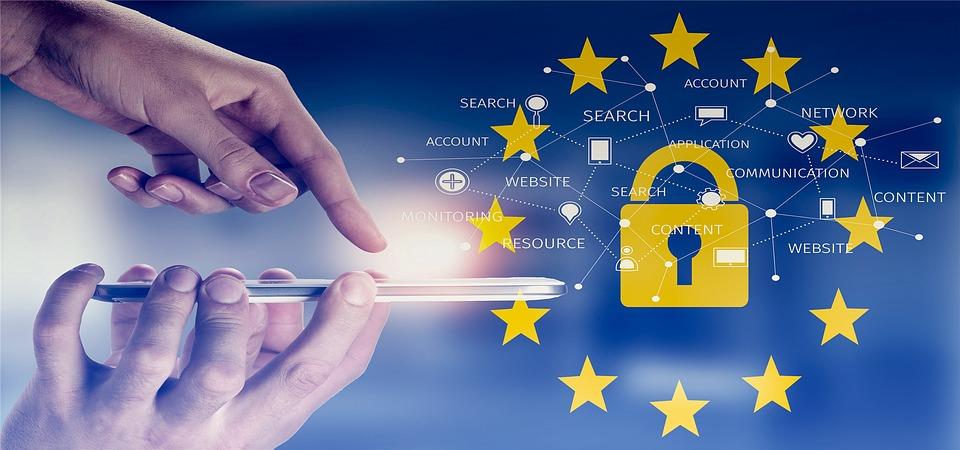 Published: 25/05/2018   Last Updated: 25/05/2018 10:22:17   Author: Empire Estates    Tags: Regulation, GDPR, Data Protection, Law
One of the biggest changes to UK Data Privacy Law comes into effect today and this affects all companies including Empire Estates.
What Is the GDPR?
The European General Data Protection Regulation (GDPR) is a new piece of legislation which amends the existing Data Protection Act 1998, changing the law around how organisations can process the personal information of customers. It comes into force on 25 May 2018. Any company that processes personal data must comply with the new legislation, these changes affect you. GDPR is a really positive step towards you having more control over how your personal data is used and how your privacy is protected.
Key Information
· We only use your personal data for the purpose for which you provided it.
· We only share select data with external parties where it is necessary for us to do so to operate our business and provide our service (eg. passing tenancy information to service providers, credit checking agencies, utility companies and the local authority), or if we are required to do so by law. Otherwise we'll always ask for your consent.
· You can always get in touch to ask us what personal data we hold and to correct and update your data if anything changes.
We have updated our Privacy Policy to reflect these changes, which you can find on our website at
www.empire-estates.com/privacy
. The Privacy Policy explains your rights and details, the types of data we hold about you, why we need it, and how long we will keep it for.
If at any time you wish to stop receiving marketing information from us, you can notify us via the instructions detailed in the marketing information you have received, by contacting us or by emailing our dedicated inbox at
gdpr@empire-estates.com
.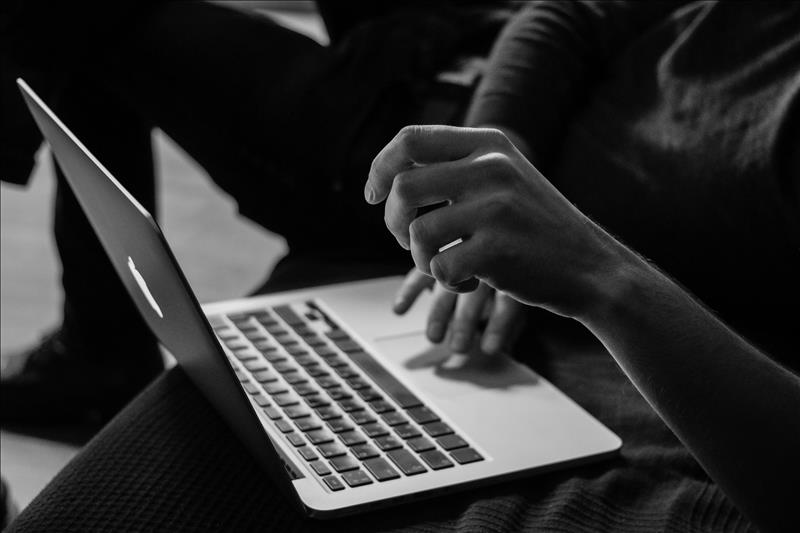 Published: 07/02/2018   Last Updated: 07/02/2018 11:25:20   Author: empire estates    Tags: Online, Security, Awareness, Password
With hacks, scams, malware and more, the Internet can feel like a dangerous place these days.
But the good news is that by taking just a small handful of security measures we can greatly reduce our exposure to all these threats.

Here are our top 10 tips to help you get started:

1. Create Complex Passwords
We know you've heard it before, but creating strong, unique passwords for all your critical accounts really is the best way to keep your personal and financial information safe. This is especially true in the era of widespread corporate hacks, where one database breach can reveal tens of thousands of user passwords. If you reuse your passwords, a hacker can take the leaked data from one attack and use it to login to your other accounts. Our best advice: use a password manager to help you store and create strong passwords for all of your accounts. It is recommended that you should try to change you passwords on a monthly basis, or at least once every 6 months.

2. Boost Your Network Security. Now that your logins are safer, make sure that your connections are secure. When at home or work, you probably use a password-protected router that encrypts your data. But, when you're on the road, you might be tempted to use free, public Wi-Fi. The problem with public Wi-Fi is that it is often unsecured. This means it's relatively easy for a hacker to access your device or information. That's why you should consider investing in a Virtual Private Network (VPN). A VPN is a piece of software that creates a secure connection over the internet, so you can safely connect from anywhere.

3. Use a Firewall. Even if your network is secure, you should still use a firewall. This an electronic barrier that blocks unauthorized access to your computers and devices, and is often included with comprehensive security software. Using a firewall ensures that all of the devices connected to your network are secured, including Internet of Things (IoT) devices like smart thermostats and webcams. This is important since many IoT devices aren't equipped with security measures, giving hackers a vulnerable point of entry to your entire network.

4. Click Smart. Now that you've put smart tech measures into place, make sure that you don't invite danger with careless clicking. Many of today's online threats are based on phishing or social engineering. This is when you are tricked into revealing personal or sensitive information for fraudulent purposes. Spam emails, phony "free" offers, click bait, online quizzes and more all use these tactics to entice you to click on dangerous links or give up your personal information. Always be wary of offers that sound too good to be true, or ask for too much information.

5. Be a Selective Sharer. These days, there are a lot of opportunities to share our personal information online. Just be cautious about what you share, particularly when it comes to your identity information. This can potentially be used to impersonate you, or guess your passwords and logins.

6. Protect Your Mobile Life. Our mobile devices can be just as vulnerable to online threats as our laptops. In fact, mobile devices face new risks, such as risky apps and dangerous links sent by text message. Be careful where you click, don't respond to messages from strangers, and only download apps from official app stores after reading other users' reviews first. Make sure that your security software is enabled on your mobile, just like your computers and other devices.

7. Practice Safe Surfing & Shopping. When shopping online, or visiting websites for online banking or other sensitive transactions, always make sure that the site's address starts with "https", instead of just "http", and has a padlock icon in the URL field. This indicates that the website is secure and uses encryption to scramble your data so it can't be intercepted by others. Also, be on the lookout for websites that have misspellings or bad grammar in their addresses. They could be copycats of legitimate websites. Use a safe search tool such as 'McAfee SiteAdvisor' to steer clear of risky sites.

8. Keep your guard up. Always be cautious about what you do online, which sites you visit, and what you share. Use comprehensive security software, and make sure to backup your data on a regular basis in case something goes wrong. By taking preventative measures, you can save yourself from headaches later on.

9. Lookout for the latest scams. Online threats are evolving all the time, so make sure you know what to look out for. Currently, "ransomware" is on the rise. This is when a hacker threatens to lock you out of all of your files unless you agree to pay a ransom. Stay on top of this and other threats by staying informed.

10. Keep up to date. Keep all your software updated so you have the latest security patches. Turn on automatic updates so you don't have to think about it, and make sure that your security software is set to run regular scans.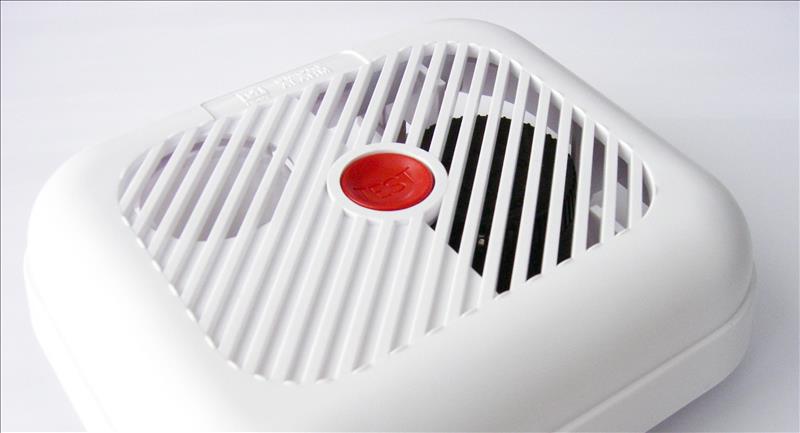 Published: 24/01/2018   Last Updated: 24/01/2018 13:49:46   Author: empire estates    Tags: Safety, Housing, Smoke Alarm
How To Test My Smoke Alarm
You should always check the manufacturer's instructions for the proper method of testing your smoke detector and fire alarm. But, in general, most battery-powered and hardwired smoke detectors can be tested in the following way:

Step 1. Alert family members that you will be testing the alarm. Smoke detectors have a high-pitched alarm that may frighten small children, so you'll want to let everyone know you plan to test the alarms to help avoid frightening anyone.

Step 2. Station a family member at the furthest point away from the alarm in your home. This can be critical to help make sure the alarm can be heard everywhere in your home.

Step 3. Press and hold the test button on the smoke detector. It can take a few seconds to begin, but a loud, ear-piercing siren should emanate from the smoke detector while the button is pressed. If the sound is weak or nonexistent, replace your batteries. If it has been more than six months since you last replaced the batteries (whether your detector is battery-powered or hardwired), change them now regardless of the test result, and test the new batteries one final time to help ensure proper functioning. You should also look at your smoke detector to make sure there's no dust or other substance blocking its grates, which may prevent it from working even if the batteries are new.

Smoke detectors can be a great way to help keep your family safe, but assuming they are working may lead to a dangerous situation. Taking a few minutes to check them regularly can help ensure they're working properly.

Why Do I Need To Test My Smoke Alarms?
Electronic devices are not infallible. Batteries die, and other parts of the smoke detector can wear out over time. Testing them regularly and replacing batteries (or the entire device) is one way to help ensure your family stays safe should there be a fire in your home.

Smoke detectors can be a great way to help keep your family safe, but assuming they are working may lead to a dangerous situation. Taking a few minutes to check them regularly can help ensure they're working properly.

How Often Should I Check Them?
Smoke detectors should be tested at least once a month and batteries should be replaced at least twice a year. A good way to help remember to do this is to change your batteries when you change your clocks for daylight saving time — when you spring forward or fall back. Make sure to review your smoke detector's user manual — you may need to check more often if any of the following apply:

The detector often gives false alarms.
The alarm emits short beeps regularly without anyone touching it.
Frequent kitchen smoke has caused it to activate often, which may wear it out faster.

There are two main types of smoke detectors:
Battery-powered: This type can be susceptible to defective or worn-out batteries. Monthly testing is critical. Never put old batteries into your smoke detectors and fire alarms.

Hardwired: These detectors are powered by your home electrical system, but they usually have back-up batteries so the device can remain operational in a power outage. Hardwired smoke detectors still require monthly testing to help ensure that both batteries and parts are functioning properly.
Show More Articles